About: Zoe Yarborough
Zoe is a StyleBlueprint staff writer, Charlotte native, Washington & Lee graduate, and Nashville transplant of nine years. She teaches Pilates, helps manage recording artists, and likes to "research" Germantown's food scene.
Recent Posts by
Zoe Yarborough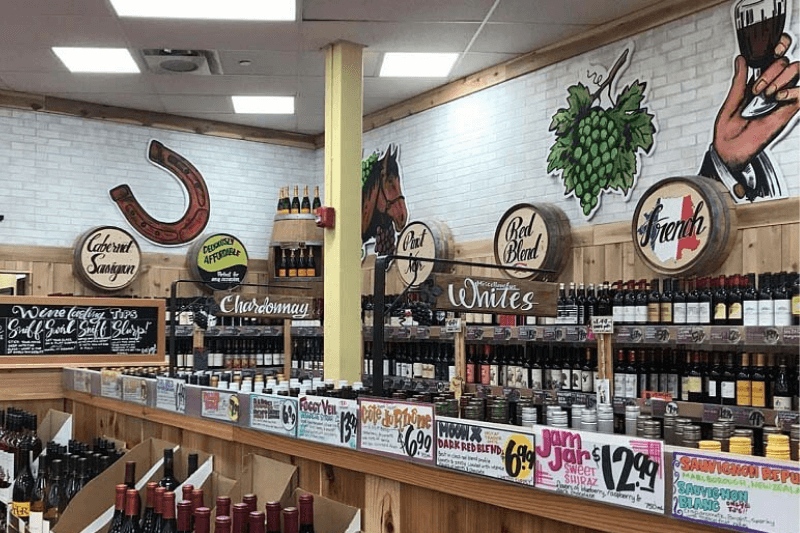 We found 11 Trader Joe's wines we love, each for less than $15 (plus an additional two if you're looking to splurge). Whether you tend to skip the TJ's wine aisle or it's basically your second home, this list has some tasty intel for you!
We have observed this word being repeatedly used incorrectly — both written and in conversation. Are you guilty of this grammar faux pas? "Grammar Guru," our enormously popular series, is back!
We are having a little love affair with North Carolina right now. Do you know about these two under-the-radar towns and how they're connected? Come explore the "Friendly City By the Sea" and a colorful rural arts town with stunning peaks.
This January, it's all about beating the chill by embracing cozy comforts. Check out our newest FINDS to make you feel warm and fuzzy in 2022!
Whether you're curling up with a good book or taking a long bath, we've got a selection of cozy Southern FINDS to keep you warm and smiling all month long.
Is "no pain, no gain" based in fact? Should I work out on an empty stomach? Should I stretch before working out? We're tackling some common fitness myths that have been debunked by science — and giving you some key takeaways that DO matter!
This backyard summer wedding in Mountain Brook was equal parts intimate and spectacular. Come relive a day filled with cute canine companions, a kaleidoscope of colorful florals, and unique touches at every corner!
Meet the fascinating 78-year-old man from South Carolina who's been on a treasure hunt picking antiques for Cracker Barrel and Hollywood filmmakers for nearly four decades.
We have tricks to remove every common stain, plus some must-read guidelines to keep your garments and carpets safe while you do so. From red wine to grass stains to every sweat and coffee stain in between.
We're tying up a year of grammar lessons with a bow! Here are Grammar Guru's 10 favorite grammar tricks to sound smarter in conversation and more confident when writing.
From posh wineries and boutique hotels to bucket-list adventures and historic sites, there's something for everyone in Middleburg, Lexington, and Abingdon. See why Virginia is for small-town lovers!
Anne Smalley has welded together her expertise and family business in industrial steel with her Southern sense of style to create custom fire pits that everyone wants. Get to know the Alabamian behind Seasons Fire Pits.
From delicious desserts and bar cart essentials to holiday trinkets and luxe bath goodies, here are some of our favorite picks for thoughtful holiday hostess gifts.
From delicious desserts and bar cart essentials to holiday trinkets and luxe bath goodies, here are some of our favorite picks for thoughtful hostess gifts this holiday season.
Before you finish ALL your shopping, consider gifts that will create lasting memories. From wine bungalows and glamping to backstage concerts and river cruises, here are some great experiences throughout the South to gift this season.
These historic Southern hotels go all-out for the holidays and offer no shortage of good cheer and opulent decor. Feast your senses on towering Christmas trees, gingerbread villages, pop-up cocktail bars, live music, and more!
A holiday cake is a treat we love sharing, but sometimes it's nice to leave the baking to the professionals. These Southern bakeries ship delicious cakes of all kinds right to your doorstep! Image: Caroline's Cakes
No matter where you live in the South, you're likely only a short drive from a fabulous holiday light display. Here are some of the South's top destinations — to explore on foot and by car — for a healthy dose of holiday cheer!
If you're confused about whether to say 'that' or 'which' — or 'who' versus 'whom' — when referring to people, places, and things, then this short-but-juicy episode of Grammar Guru is for you!
From statement jewelry pieces to gorgeous home decor to indulgent spa treatments, this Luxe Loves Holiday Edition list is chock-full of luxurious items, perfect for a special someone. Or splurge on yourself!
When only the finest home decor, jewelry, and wares will do (or when you just enjoy dreaming of an over-the-top holiday haul), here is our list of luxurious holiday gift ideas. Prepare to swoon …
Three Carolina cities — Charleston, Asheville, and Greenville — completely transform into festive winter wonderlands this time of year. Take a look at all the holiday cheer these towns have to offer, from events and decorations to shopping and dining!
Shopping luxury consignment is doubly fabulous: you can find unbeatable deals on high-end items AND lower your environmental impact along the way. Here are 10 high-end resale boutiques across the South that ship nationwide!
There are few things that warm the belly and the soul like a slice of holiday pie baked from scratch. These Southern pie makers offer shipping, making gift-giving and dessert planning a breeze. Have a slice!
This two-night, 400-guest wedding extravaganza is a must-see! From the vibrant hues and outfits of the Friday night Mehndi celebration, to the floral-drenched Saturday reception, join us in reliving this Amos Gott-designed visual feast of a weekend.
This Pursell Farms bride designed the wedding of her childhood dreams with some show-stopping chandeliers, breathtaking florals, and dessert details like you've never seen!
We're back with our annual "Under $50" holiday gift guide featuring some of our favorite makers, brands, and boutiques across the South!
Lake Lanier is one of the country's most controversial and, according to many accounts, most haunted lakes in America. Millions still visit this North Georgia lake despite its dark past and track record of tragedy after tragedy. Let's dive in. (Figuratively, NOT literally.)
Do you say Krogers? What about Nordstroms? Belks? Does it make you cringe when other people do? Grammar Guru takes an entertaining look at all of the business names we mistakenly add an "s" to, why we do it, and who actually cares.
Lake life is a great life, and the revelry doesn't have to stop at the shoreline when there is a nearby town to explore. Here are six dreamy lakeside towns in the South, perfect for your next getaway. Image: Buddy Morrison
One of the best ways to soak up views of changing leaves and enjoy the crisp fall air is by hitting the trails. Here are four remarkable hikes across the South to add to your fall lineup.
Subscription boxes make thoughtful, exciting gifts to receive throughout the year. We've rounded up 13 uniquely Southern subscriptions that support small businesses and artisan makers right in our backyards!
As Keeneland's race season whinnies and rears excitedly, we look back at one Kentucky bride's stunning wedding on the grounds of Keeneland. Against a few unforeseen odds, this heavenly-hued wedding won first place.
A change of season means an exciting new batch of FINDS. Here are some of our favorite new items from brands and stores across the South! We have picks for your fall-ready closet, cozy home, and lots in between.
October is here and so is our list of fresh-for-autumn FINDS! We've rounded up an array of new additions for your living room, jewelry box, closet, and pantry … all from Nashville makers and shops. Image: Vinnie Louise
South Carolina has so much to offer. Mountain spirit, coastal charm, metropolitan excitement, and countryside appeal. We've explored five very different (but equally charming and visit-worthy) small towns that might not be on your radar. Yet.
Grammar Guru tackles how to pluralize someone's name when you are signing a holiday card or congratulating a happy couple on their wedding. Hint: An apostrophe NEVER makes something plural.
The road trip is back! Whether you favor culinary pursuits, wine tasting, hiking to waterfalls, brushing up on American history, or feasting on visual arts, we have an itinerary for you.
Memphis is home to an amalgamation of musical genres, talented players, and eager fans. From open-air amphitheaters and storied theaters to cozy cafes and backyard breweries, here's your ultimate guide to live music venues in Memphis.
We're welcoming September with a full lineup of items for you, your home, your closet, and MORE! Take a look at these 20 fresh Nashville FINDS to see you from late summer into fall. Image: Lauren Reese
A new month brings a fresh batch of FINDS. Here are some fall-ready items we've spotted from Southern brands and businesses that we bet you'll love!
The South is home to hundreds of state parks of various terrain and bewildering splendor. We're sharing three top-rated or often-overlooked (but absolutely incredible) parks in each state for you to check out on your next road trip.
Whether you're experienced, skeptical or somewhere in between, the benefits of meditation are abundant. We break down this mindfulness exercise, squash some myths, and make a case for why EVERYONE should meditate. Image: Kristen Sheft
As you're making plans for the coming season, don't miss these popular food, music, and art festivals across the South. There's no shortage of tunes, tasty bites, and beverages that await this September, October, and November!
We've searched the South for some of the most massive and luxurious hotel suites available for booking. Here are nine suites you'll have to see to believe. (One is more than 3,000 square feet!)
The Oxford comma is a tiny squiggle that's somehow hotly debated. Grammar Guru explains both sides of the argument, makes her own case for the Oxford comma, and shares one instance when the omission of a single comma cost someone a whopping $5M.
A true 'bed and breakfast' is a concept near and dear to the Southern sojourner. Historic charm, divine linens and decor, and a traditional homecooked breakfast are all standbys at these six luxurious Southern B&B's.
The South has set the scene for some of your favorite shows and films. Sometimes, Hollywood aims to capture the place itself, but many times they're fooling us. Test your trivia prowess! How many of these filming locations could you guess?
Kentucky is so much more than its world-renowned bourbon empire and bluegrass-covered horse country. It's often the little in-between towns that hold all the magic. Discover three of our favorites: Bardstown, Midway, and Maysville.
When the bride is a brand strategist and designer, her wedding is bound to be anything but ordinary. This elegant European-style wedding has so many personal touches you just have to see to believe!
We're soaking up the last month of summer with a fresh collection of FINDS. Whether you're looking to freshen up your wardrobe or your home, here are some Southern treasures we love!
As we ease into the final weeks of summer, there are plenty of fabulous FINDS to scoop up. Check out this list of local Nashville goodies!
How can I support my daughter who's being bullied? My son wants to quit track after all these years! How does my family navigate the college process? Two women have created a community where millions of parents discuss topics like these. You either already know about 'Grown & Flown' — or you're about to become…
Picking cleaning products can be as daunting as the cleaning itself. We have rounded up some of our staff's personal favorite cleaning products and tools — we bet you'll want to give a few of these a try!
Grammar Guru is back and discussing a rampantly ignored rule concerning quantifiers. If you (or your loved ones) use phrases that contain "the amount of times" or "the amount of people" — this episode is for you.
We've found five tucked-away waterfalls, each less than 60 miles from a much-loved Southern city. Every one of these awe-inspiring falls is worth the hike that leads to them.
You may have seen this buzz-worthy artist's giant, boldly colored canvases and abstract, gold-flecked pillows on Instagram. Now, get to know her background and inspirations — and enter to win a piece of Carrie's work!
Whether you're daydreaming about or seriously considering a splurge-worthy indulgence, check out these luxurious FINDS for the home, closet, and jewelry box — all from Southern shops and makers!
This enchanting Southern love story and stunningly curated Mississippi farm wedding are the stuff of fairytales. You'll have to read it (and see the pictures) to believe it!
Beat the heat with these local summer FINDS. With items to spruce up your wardrobe and home, here's what we're loving this month!
We've been scouting our favorite Southern shops to bring you the best beat-the-heat FINDS for July! Here's what we're loving this month.
Steve Davis kept a lot of things from his childhood secret until he was 35 years old. Once he finally spoke up, he devoted his life to helping other children who have survived similar abuse. This avid fly fisherman now takes hundreds of Southern kids out West to connect with healing nature.
This Fourth of July, let's unpack the history of incorporating fireworks into our celebrations and take a look at some truly fascinating firecracker facts.
Grammar Guru tackles five phrases she sees misused or misspelled regularly. You might be surprised by one or two of these … and you might think of a friend who needs to watch this episode!
From a funky new space in East Nashville to a historical treasure trove in downtown Louisville to Huntsville, Alabama's first boutique experience, peek into these three exciting new Southern hotels.
Swinging bridges are nostalgic and exhilarating, and their numbers are sadly dwindling. We've found eight picturesque swinging bridges to cross (or not) on your next Southern hike. Image: Matthew Guthrie
As restrictions lift and we reconnect with loved ones, we're also reflecting on lessons learned. We asked 10 influential and inspiring Southerners what they've eliminated from their lives once and for all, and we got some remarkable responses.
In this hot and crazy housing market, million-dollar listings are cropping up all over the place. We've rounded up 10 rural and urban homes for sale — each for around $1 million — as well as some expert intel about how far a million can go in different parts of Tennessee.
The giant, hundreds-of-years-old tulip poplar trees in the Joyce Kilmer Memorial Forest transport travelers to another time and place. Why should you visit the South's best-preserved old-growth forest? We're spilling this well-kept secret.
From bar cart essentials to beat-the-heat styles to top picks for Dad, we've found some amazing summer FINDS from makers and boutiques across the South. Take a look!
In what is possibly the South's coolest comeback story, this lawyer-turned-CEO is reviving the nostalgia, comfort, and wonder of the great American road trip one Stuckey's roadside oasis and Pecan Log Roll at a time. Meet Stephanie Stuckey, our newest FACE of the South.
Picture waking up in a fabulous new destination without a schedule, a to-do list, or the temperaments of others to consider. Solo travel can be uniquely rewarding and fulfilling, and we've got your ultimate guide.
Does "Where's it at" sound like nails on the chalkboard to you? You're not alone. But is it ever okay to end a sentence with a preposition? Grammar Guru unpacks a much-debated grammar myth.
Did you know all of these were invented in the South? We bet you'll be surprised that these nine things are all Southern inventions!
A serendipitous reconnection of Oak Hall's Chris Levy with childhood friend Haley Young resulted in a dreamy Italy proposal and a fall Memphis wedding you've GOT to see!
From old forgotten houses and dreamy décor to scenic vistas and mouth-watering dishes, here are 10 of our favorite Southern-centric Instagram accounts. We can't stop scrolling! Image: Happy Hens & Highlands
What exactly is this "revenge travel" phenomenon? And where does our staff plan to travel when we are able? From Fiji to Patagonia to Norway, here's our collective bucket list!
Ruby Falls, Rock City, and Lookout Mountain are only the beginning of the reasons we love Chattanooga, Tennessee. Here are 12 exciting new reasons to visit this year — from fabulous food to free family fun!
From Mother's Day picks to thoughtful gifts for grads, all of these fantastic May FINDS are shoppable online, and each is perfect for spring!
From Mother's Day picks to thoughtful gifts for grads, all of these fantastic May FINDS are shoppable online, and each is perfect for spring!
In 2008, 22-year-old Katherine Wolf — a newlywed and new mom — survived a catastrophic brain stroke. She's been recovering since then, all while disrupting the myth that joy can only come from a pain-free life. Meet this incredible FACE of the South.
The second home market is just as hot as the country's housing market as a whole, and we've got some statistics, trends, and expert insight that might shock you!
StyleBlueprint's Grammar Guru is back with her newest lesson. Here are the rules of thumb for some of the trickiest word pairs.
Does it feel like the South is getting more tornadoes than usual? We unpack this severe weather phenomenon with famous weather expert James Spann and look back on the 10-year anniversary of one of the South's deadliest tornado events.
Sparkle City (aka Spartanburg), a once-thriving textile mill town in South Carolina, is more alive than ever as a hub for the arts, the outdoors, and the most iconic greasy spoon restaurants in the South. Here's why you need to visit this year.
Check out three exciting ways to experience the visual arts this summer. Step onto a gigantic Van Gogh, see the quirky art collection from one couple's 69-years-long love, and see how one woman's vision is coloring the walls of a small town.
There's a lot of buzz surrounding this new idea of "vaccine passports," and pre-travel testing is very much still at play as the world begins to open up. We've got answers to your burning questions surrounding both.
We've got dates, lineups and important information about your favorite festivals returning to the South this summer. Plus, find out changes, trends, and safety precautions you can expect to see.
Spring brings a fresh new crop of Southern FINDS. Here are some great additions for your closet, home, and outdoor adventures from around the South to enjoy this month.
Facebook sensation and "everyone's grandma," Brenda Gantt, has amassed a following of more than 2 million hungry fans with her unedited, hilarious, and delicious recipe videos. Our FACE of the South dishes on her fast rise to stardom and her best Southern cookin' tips.
Where might you happen upon Taylor Swift recording a song next door, an Alpaca at breakfast, or a newfound desire to fix up an Airstream and hit the road? These three Southern rentals offer extraordinary experiences you have to see to believe.
A woman's purse says everything about her. Styles, colors, shapes and sizes of the American handbag have changed throughout the years. Their contents have, too. See how one woman's collection of more than 2,000 purses, and all of their contents, is uncovering and celebrating 100 years of women.
Most of us are just now hearing about the thriving arts town of Natchez, MS. The jewel of the Mississippi River is attracting artists, galleries, and even entire creative industries from around the globe because of a few key ingredients that make it a creative haven.
An entire secluded island? A medieval castle? A mid-century modern home high atop a mountain? These (and two more) could be your next vacation accommodations. Check out these luxurious and unusual Airbnbs found throughout the South.
The humble sea bean is garnering waves of attention from chefs and scientists in Charleston and beyond. See how this plant and one farm are elevating food menus and restoring marshes at the same time.
From a secret driftwood-laden beach to a wild river oasis to a downhill railroad bike trail, here are five off-the-beaten-path outdoor destinations you might not have thought of … plus places to stay and play after a day of activity.
A new boutique hotel in Highlands, NC, magically blends Appalachian artistry with English countryside decorum. Here's a first-hand look into the elegantly restored 150-year-old Highlander Mountain House.
This 30A event company is completely reimagining the future of weddings. Their intimate turnkey packages make the planning process effortless for brides and no less remarkable for guests. See why everyone's curious!
As we look forward to outdoor adventures and socially distant patio hangs, we have rounded up some of the South's best outdoor FINDS this month! Take a look and get ready for some warmer weather. Image: Jenni Earle
Etiquette guru and owner of one of the South's most sought-after stationery companies, Heather Wiese Alexander is redefining, reimagining, and redesigning the social code. Meet our newest FACE of the South!
Montgomery, AL, has lots of exciting developments for 2021 and beyond, like new diversity experiences for groups, its first boutique hotel, a self-contained "smart farm," and some tasty new restaurant openings.
The food hall is having a(nother) moment, and it could be a silver lining for many food lovers affected by last year's shutdowns—both the eaters and the chefs. Discover these three must-visit Southern food halls, and get a heads up on a few more opening soon. Image: Camp North End
Chocolate's on our minds, and we want to introduce you to nine of the South's coolest chocolate artisans. Ship some to loved ones and make their day. Or maybe the next round of zoom meetups could be to taste-test chocolate with friends? We'd be all for that!
This pre-Covid Valentine's Day wedding made of dreamy red and pink hues is a sight to behold. A Dallas couple tied the knot with a guest list of 400 in one of the most stunning winter weddings we've ever seen.
From season-bridging accessories for the wardrobe and home to unique happy hour ideas and ways to say "I love you," we're falling hard for these 18 Southern FINDS!
Nicole Walters left a high-profile career scaling Fortune 500 companies to build her own corporation, a business-growth education center that helps entrepreneurs grow their businesses. And she's now the star of a new sitcom on USA Network. Get to know our newest FACE of the South! Image: Danielle Finney
The hit series "Bridgerton" has taken the world by storm, and perhaps the only thing more breathtaking than the love of the main characters is the florals at their wedding. We chat with top Southern florists about the flowers, the costs, and recreating a budget-friendly version of your own.
Whether or not you've visited one (or all three!) of these North Carolina resorts, there is plenty to rediscover at Pinehurst, Blockade Runner, and Fearrington when you're ready to safely travel. Take a look!
Aches, pains, and strange health occurrences are not fun to deal with. But the quicker we notice the symptoms, the quicker we can treat the issue. Here are five common health problems, their causes and how to treat them.
From skin care and fashion to home decor and travel, here are 10 exciting and anticipated lifestyle trends to be on the lookout for in 2021!
STEEL + PLANK has a new online store featuring Southern makers, custom-built furniture, and simple but elegant home goods. While the store is based in Athens, GA, people across the region are embracing this beautiful store and online shopping experience.
After surviving unspeakable darkness as a young woman, Holly Christine Hayes has created a sanctuary — a jewelry company — to help dozens of other women do the same. Get to know this joy-filled FACE of the South!
If you're ringing in the new year from the comfort and safety of your own home, here are three-course menu ideas and festive cocktail recipes from celebrated chefs across the South. Ring in the new year with some great flavors!
Have you seen the chic, boldly colored neoprene bags sweeping the country? The maker of this sought-after staple, Parker & Hyde, isn't just about bags. With arms in furniture, flooring, and fashion, this brand's story is as big, bold and Texas-flavored as its designs.
Dating during a pandemic is as strange and confusing as it sounds. But could some positive, lasting trends emerge from this unchartered social territory? We got some firsthand accounts of success stories, cringe-worthy failures, and tips for finding meaningful human connection.
TV star Crystal Renee' Hayslett's dream to perform started in small-town Tennessee, followed her as she worked on Capitol Hill, and grew to unimaginable heights in the Hollywood of the South, Atlanta. Get to know our newest FACE of the South and her journey that we could all learn from.
This winter, we're all about some outdoor adventure, fresh cool air and breathtaking vistas. Here are five hikes of varying lengths and difficulty levels across the South to add to your calendar this winter.
After listening to one of Brené Brown's podcasts on the subject of stress, we discovered seven actionable things to start doing, and one is embracing in a 20-second hug! Today, we share these with you and introduce you to a life-changing book, 'Burnout'!
This festive season, event planner and interior designer extraordinaire Rebecca Gardner sets up her magical e-shop 'Houses & Parties' for a month-long residency at The Dewberry hotel in Charleston. Meet the woman behind this distinctly Southern holiday shopping experience.
In this Grammar Shape-Up Series video, Zoe tackles double possessives (is it "a friend of John" or "a friend of John's"?!), joint possession (is "Sarah and I's favorite song" a grammatically sound phrase?), and the double negatives you don't realize you're saying. Freshen up on three tough-to-tackle grammar rules.
Whether you want to try an elevated version of a classic Thanksgiving side or try something new altogether, here are some tasty ideas that some of the South's top chefs are preparing for their own holiday meal.
Friends and family near and far are at the forefront of our minds even when we can't come together in person. From the cheeseboard-lover to the oenophile to the Southern traveler, here are three thoughtful and tasty gifts that say "I love you" with the click of a button.
Switch up the roasted turkey game this Thanksgiving! Chef Dave Harris of Butchertown Hall, Nashville's popular smokehouse, dishes some essential tips for how to smoke a turkey to preserve flavor, texture, and moisture.
The South is home to so many impressive jewelry designers whose stories and styles are constantly dazzling and inspiring us. From stunning hammered gold to funky statement-making colors, check out these five North Carolina-born and -bred jewelry lines you'll LOVE! Image: Campbell + Charlotte
After the pandemic squashed their Martha's Vineyard wedding plans, this couple put their wedding on wheels. Two cities, 578 miles, a 15-hour wedding day, and 22 supported small businesses later, you don't want to miss this wedding recap!
To usher in a cozy, joyful holiday season, we've scouted out some fantastic FINDS from Southern brands. From thoughtful guest room touches to tabletop decor for autumn soirées, check out these new November FINDS!
Did you know "anyways" is not a word? And "factoid" doesn't mean a small piece of information? Read — and WATCH — Zoe's explanation of five words we misspell or misuse often in our latest Grammar Shape-Up Series article.
How did tipping become so widespread in America, and how do we navigate it today with the pandemic and the holidays in mind? Here's your updated guide to tipping.
No matter how or for whom you decide to vote, this election's voting climate is a peculiar one. Here is a general step-by-step guide to safe and successful voting, plus many links to official resources with more in-depth information by state. 
There's a new bridal gown purveyor on the wedding scene with a story as unique as the dresses it designs. Get to know Samros, their incredible artisans, and their just-launched dress collection.
Whether you're ready to travel, ready to plan or not ready at all, here are nine important — and likely long-lasting — travel trends emerging.
Many things have grown out of the Mississippi Delta since the mystical land's inception until its current moment in the spotlight. Blues music, world-renowned pottery, and some small-town charm are worth seeing and tasting. Here are six reasons to visit Cleveland, MS.
There is one workout you should never miss. Find out what it is and four solid reasons why this one hour benefits your week and your life in immeasurable ways.
As one of the South's most esteemed architectural photographers, Alyssa Rosenheck is gearing up for the launch of her new book. Learn more about her impressive journey from the corporate grind to creative liberation.
Are your photos clogging up your phone storage? Do you find it difficult and anxiety-inducing to try to locate the photos you need? Are you scared to delete a single photo in fear of losing it to cyberspace forever? Don't worry … your guide to photo organizing is HERE!
As one of the South's most esteemed architectural photographers, Alyssa Rosenheck is gearing up for the launch of her new book. Learn more about her impressive journey from the corporate grind to creative liberation.
As one of the South's most esteemed architectural photographers, Alyssa Rosenheck is gearing up for the launch of her new book. Learn more about her impressive journey from the corporate grind to creative liberation.
Brides around the country are realizing the upsides of smaller, more intimate weddings: the venue options, quality time with loved ones, low-stress budgeting, and opportunities for personal and creative touches. We dive into the booming world of micro weddings and glean some insight from the wedding pros.
Certain places in the South are steeped in so much natural beauty and historical mystery that you can't help but feel inspired and humbled in their presence. Here are three spectacular places (and their fascinating histories) to visit on your next road trip.
Laundry stripping. We're seeing this trend everywhere these days. It's a grossly satisfying way to deep clean your well-loved linens and workout clothes to get them cleaner than they have ever been. We even have an easy how-to video for you!
From local farmers' markets to high-end health stores to big-box wholesalers, we face a lot of options when it comes to buying groceries. This is your ultimate guide to WHAT to buy WHERE … plus some grocery shopping tips from a pro!
Whether you're a devoted enthusiast, a casual horoscope reader, or an all-out non-believer, you will learn something from these 11 FAQs answered by a professional astrologer!
When you need a break from the monotony of daily life, here are five simple and refreshing distractions and the supporting science behind why they work.
This bug-loving Southerner changes everything we thought we knew about beekeeping and local honey. She's even become TikTok famous. Meet Erika Thompson and learn her surprising beekeeper insider tip!
This bug-loving Southerner changes everything we thought we knew about beekeeping and local honey. She's even become TikTok famous. Meet Erika Thompson and learn her surprising beekeeper insider tip!
Despite some COVID curveballs, this Memphis-grown couple pulled off a classic Southern wedding at the Cadre Building, complete with a live-streamed ceremony, build-your-own-biscuit boxes, and cones of white rose petals.
Not everyone is a morning person, but there is something to be said for getting an extra hour or two in the morning to yourself. Here's how to make a few key adjustments to greet the day earlier.
We sat down with event planning guru Angela Proffitt to learn the ins and outs of planning a virtual retreat — whether it's for your company, group, or family — that will keep attendees enthusiastic and engaged all day. Image: Details Nashville
Zoe is back with our Grammar Shape-Up Series to explain the fascinating history of acronyms and some common ones you will see in texts, social media and work emails.
As Director of Philanthropy at the Humane Society of Memphis and Shelby County, Katherine Russell is overflowing with compassion for Memphians — both two- and four-legged alike. Get to know our newest FACE of Memphis.
The start of Gina Hurry's art career was lonely, but with faith, passion, and a supportive family, she persevered. Today, Gina helps others tell extraordinary stories through her art and cultivates the creative spirit in Birmingham, AL, for the greater good. Image: Sarah York
Barbecue has evolved for hundreds of years into the undeniable Southern icon we love today. This barbecue guide pulls apart (get it!?) the traditions, techniques and monumental effort involved in cooking this renowned Southern treat and how it became the cultural phenomenon it is today. Image: Andrew Cebulka
Four Southern brides, who got married between 1962 and 2018, dish on their love stories and wedding day feelings, and offer their best advice for making a marriage last long beyond the wedding day.
Now is the perfect time to kick your healthy habits into high gear. Here are some of our favorite new finds to keep you healthy and inspired!
These two women now run one of the South's niche businesses, Dorm Decor. Today, they share their interesting backstory, the inside scoop on dorm design and more.
These two women run a niche, Southern business, Dorm Decor. Today, they share their interesting backstory, the inside scoop on dorm design, and more.
Now that many of us have a few months of remote work under our belts (or elastic waistbands), it's time to revisit some things we've learned to do — and to absolutely NOT do — during a virtual meeting.
Beverly Erdreich has never been one to color inside the lines. This unconventional (and impeccably dressed) Southern artist dishes about a career in abstract art and why she's always done things her own way. You have GOT to meet this FACE of Birmingham!
Opening a business is a complicated but rewarding process, but opening a business during the pandemic? Here are five inspiring stories of Southern businesses that opened in the last few months.
At 23 years old, Chloe Tyler is positioned to become the country's next prominent pop artist. Meet her today and see why you need to know her and her art!
If you often fudge your way through properly pronouncing certain dishes and wines on a menu, this article is for you.
These two best friends left their high-profile jobs to start a company that's revitalizing the custom linen world. Meet the founders of Weezie Towels!
Liz called her best friend Lindsey one day to complain about her frustration shopping for custom towels. A few years later, they left their high-profile jobs to start a company that's revitalizing the custom linen world. Meet the founders of Weezie Towels!
Oh, apostrophes. These tiny little squiggles can prove tricky, but StyleBlueprint's Grammar Shape-Up Series can help. Watch (and read) this week's lesson to find out the correct way to use them.
This Memorial Day, we're revisiting one of our most popular FACES of the South from the past year. Welcome back Laura Lea Bryant!
If you're thinking of buying or selling a car, one Memphis auto dealer is going above and beyond to help customers safely pick a new vehicle. Even better? They're using their fleet to deliver hundreds of meals to local first responders.
This winter wonderland wedding is one you don't want to miss. Molly White and Joey Viola were joined by 510 guests for a spectacular day filled with unexpected touches and unforgettable moments. | Photographer: Kristyn Hogan
This winter wonderland wedding is one you don't want to miss. Molly White and Joey Viola were joined by 510 guests for a spectacular day filled with unexpected touches and unforgettable moments. Image: Kristyn Hogan
At 184 years old, Bromberg's — a name synonymous with luxury in Alabama — is the oldest family-owned retailer in the U.S. "Perseverance has seen us through many wars, recessions, depressions and pandemics from Cholera to the Spanish Flu to the current COVID-19 pandemic."
Lay versus lie. Sometimes it's tough to distinguish when to use which verb. But lie back and let StyleBlueprint's Grammar Girl lay the facts out to help you nail this pesky rule once and for all!
A well-trusted Louisville real estate leader shares how agents are safely and creatively showing homes, the state of the real estate market and how digital tools will help the industry in the long run.
The idiom "I couldn't care less" versus its newer form, "I could care less," is a hotly debated grammar topic. In her latest video lesson, our very own Grammar Girl unpacks this phrase and urges us to ask if we've been saying it wrong all along. Take a look!
Don't sacrifice self-care during your time at home. Here's your expert lesson on how to give yourself an at-home blowout!
See how clothier Oak Hall's owners combine a need for masks, a bounty of fabric and a wealth of crafty imagination into a community impact they could never have imagined.
Do you cringe at the express lane sign that reads "10 items or less"? Well, you might after you watch this week's grammar lesson on the important (and often ignored) difference between "less" and "fewer."
Have you ever sat there and pondered a pesky grammar question before sending that email to your boss or captioning your Instagram photo? In this new weekly video series, we tackle one common grammar/spelling/phrasing mistake you might be making regularly.
We asked three people in different living situations for advice when it comes to cohabitating harmoniously during the quarantine.
Time at home can breed new skills and lifelong hobbies to take with us out of self-isolation and into the mended world. We rounded up some ideas — from craft-centric recycling to unicycling — and spoke to some novices who are trying them out for the first time. Come find a new hobby!
As stores struggle to meet shoppers' demands, it's more important than ever to have a respectful and safe mindset when grocery shopping. Here are some best practices for your next trip to the store as we live through this pandemic.
Working remotely just isn't the same as the office you're used to. Here's how to stay sane and productive while working at home.
California Closets and Martha Stewart have an exciting new collaboration and Nashville got a behind-the-scenes look! We've got photos and intel from the exclusive unveiling party at the gorgeous 505 apartment building, and how the event turned attention to tornado relief. Image: Geinger Hill
Leather. It's warm, timeless and luxurious. And one woman is leading the charge in the high-end, handmade leather furniture coming out of North Carolina's booming industry. Get to know this driven executive and hear some of her best furniture advice and stories.
When Alabama football is a cornerstone of your relationship, why not have your wedding party in Bryant-Denny Stadium? Tide fan or not, you don't want to miss the crimson-colored Alabama love story.
When Alabama football is a cornerstone of your relationship, why not have your wedding party in Bryant-Denny Stadium? Tide fan or not, you don't want to miss the crimson-colored Alabama love story.
Get an up-close-and-personal look at what it was really like to live through the Nashville tornado. Our SB writer shares her experience — during and after — the destruction in Germantown. And she shows why Nashville WILL get back up.
Whether you're an experienced business owner or you've got the itch to "be your own boss," these stories and pieces of advice from six Southern entrepreneurs will inspire and inform … we promise you don't want to skip this one!
2020 is a leap year, and we'll show you why February 29 is more than an extra day on the calendar. Check out these surprising facts, traditions and some struggles leap year babies face.
There's no shortage of entrepreneurial spirit and hard-earned success in Nashville. From fashion labels to food groups and every industry in between, there are thriving start-ups helmed by bold, forward-thinking
We love the feeling of picking up fresh dry cleaning, but how much do you really know about the process and what actually needs to be dry cleaned? Get the best clean for your buck by separating dry cleaning fact from fiction.
Dallas, TX, is a colorful, larger-than-life city with cool neighborhoods, amazing cuisine and serious shopping. Here's how to spend a weekend in this distinctly Southern destination.
Whether you're planning your own wedding or ready to swoon over someone else's, we've got your hotlist for wedding trends in 2020 plus the inside scoop from some of the South's top planners.
Whether you're looking for a fun, new way to get fit or you're rediscovering some childhood moves, there's a Nashville Ballet Adult Class for you. Taught by top-notch professionals in a variety of formats, come discover a side of the ballet you need to know about.
An ancient art form has returned to the spotlight in recent years. Dive into the fibers of textile artistry with us, meet some of our new favorite Southern artists and, perhaps, find your new creative hobby. Image: James Williams
Our beautiful — inside and out — new FACE of the South, Laura Lea Bryant, opens up about her journey to becoming a holistic chef, where she goes to recharge and some health misconceptions she aims to clear up one recipe, cooking class and Instagram story at a time.
Our beautiful — inside and out — new FACE of the South, Laura Lea Bryant, opens up about her journey to becoming a holistic chef, where she goes to recharge and some health misconceptions she aims to clear up one recipe, cooking class and Instagram story at a time.
If you're struggling to find time to fit in fitness, we're making it easy. Here are three solid fitness apps that make working out convenient, no matter where or when.
Whether you're planning a visit to Charlotte or you're a local ready to host out-of-towners, here's a weekend itinerary that shows off the best of the Queen City!
We've searched the South for seriously cool beach, lake and mountain rentals for your getaway with family or friends. From heated pools and private beaches to outdoor kitchens and bunk rooms, here are eight perfect spring break rentals (plus one you can buy)!
Is your driver's license REAL ID-compliant? Do you still have questions about what REAL ID is? We unpack the ins and outs of the new IDs to find out why the government is enforcing them, why you need one, and how to get one before the deadline. Image: Teslin
Mossy oak trees and a layered sunset over the water. Showstopping autumn-hued florals and a mouthwatering Southern menu. These are only a few of the things we love about this undeniably perfect Lowcountry wedding on a Charleston plantation.
In just eight months, these SMU sweethearts planned a perfect Memphis wedding with some of the most delicious menu items and clever guest surprises we've seen. Come swoon over this wedding with us and see what happened when their getaway carriage didn't show!
Katherine Mason has been a competitive athlete, a New York City model, and a group fitness class expert. At just 30 years old, she's combined her passions for fitness, fashion and business to create the world of SculptHouse. Get to know our newest FACE of the South, Katherine Mason!
Katherine Mason has been a competitive athlete, a New York City model, and a group fitness class expert. At just 30 years old, she's combined her passions for fitness, fashion and business to create the world of SculptHouse. Get to know our newest FACE of the South, Katherine Mason!
Winter is the time to cozy up on the couch and binge the shows everyone's talking about — or maybe find an unlikely new favorite. From creepy true crime to award-winning dramas to out-of-this-world action, here is your ultimate what-to-watch guide for this holiday break.
From a childhood in Saudi Arabia to the links at the Masters to the rolling hills of Ashbourne Farms, Annie Cobetto dreams up and designs events like you've never seen — taking curveballs with a big smile and an unteachable intuition. Meet our newest FACE of Louisville.
From a childhood in Saudi Arabia to the links at the Masters to the rolling hills of Ashbourne Farms, Annie Cobetto dreams up and designs events like you've never seen — taking curveballs with a big smile and an unteachable intuition. Meet our newest FACE of the South.
This list of Southern cities and their New Year's Eve happenings will have you booking one last trip in 2019. Here are some of the South's most noteworthy New Year's Eve celebrations to ring in the new year — and the new decade!
When only the finest experiences, home decor, jewelry and wares will do (or when you just enjoy dreaming of an over-the-top holiday haul), here is our list of luxurious holiday gift ideas. Prepare to swoon …
At just 24 years old, Katie Jones has fulfilled a lifelong dream of owning a fine art gallery. We chat with the invigoratingly art-obsessed owner of Atlanta's Buckhead Art & Company about her journey to a career in art, who she admires, and her best advice for aspiring collectors.
Ah, Costco, our beloved big-box wholesaler where good deals and food samples abound. We've rounded up some insider tips and tricks you might not know about to help you get the most out of your membership — and how to shop there without being a member.
From a ski slope proposal to a fireworks getaway, every piece of this wedding will make your jaw drop. Dripping greenery, seven cakes and a mishap that made everyone burst into laughter are only the beginning of this dreamy Nashville wedding.
The roster of developments new to or headed for Rocket City, USA, is out of this world. From a new baseball team and outdoor co-op, to mixed-use leisure halls and swanky hotels, here's why you need to visit Huntsville, AL, in 2020.
There's an "F" word in the English language that many people are reluctant to use, and it's not what you're thinking. This word's current purpose has outgrown its history, and we've got some stats and stories about a polarizing term that most of us embrace — knowingly or unknowingly.
Optimist Park used to be the Charlotte neighborhood you'd drive through to get to one of its hotspot neighbors. With its rich history and new developments, like a food hall, new light rail stop and boutique housing options, this borough is poised for a longlasting "moment."
Geri Giagnorio is a skincare superhero — she's an aesthetician, nutritionist and entrepreneur who believes in helping people cure their skin from the inside out. Her skincare line is bought by people throughout the country. Meet this incredible FACE of the South!
A Charlottesville, Virginia-raised girl meets a Nashville, Tennessee boy in college, they become best friends and eventually fall in love … the resulting wedding is a stunning, classic indoor-outdoor celebration on a mountain vineyard, with a food lineup you won't believe.
Thom Filicia's interior design dexterity has filled his client book with Tina Fey, Delta Airlines and W Hotels among many more. This designer of stunning spaces and thoughtful home products plans to make an exciting mark on the South. Read on to find out how!
The centuries-old tradition of the debutante ball continues to thrive in the South. Still steeped in tradition, what was once a way to announce that a girl was fit for marriage, these events now provide families and friends a chance to celebrate, dress to the nines and give back to the community.
Whether you're running, walking or cheering, these races, which take place from Halloween to Christmas, are a fun and healthy way to get outside and earn some guilt-free indulging.
Why do we assume "good" beauty products have to be expensive? We've searched the shelves of drugstores to find the best Cheap Thrills for healthy skin, nourished hair and a stocked make-up bag — all for less than $20!
Brown recluse spiders live in many homes in the south and central US, but most of us rarely see them. As cooler months approach, we give you some tips for avoiding brown recluse bites, next steps if your home is infested and two cautionary tales from people greatly affected by these pests.
From first kiss to wedded bliss, Daley and Patrick Snell took the long way to their crisp October wedding day — on an Auburn bye week, of course! From royal wedding inspiration to surprise Whataburger, this is a wedding you don't want to miss!
If you haven't had the chance to try this famous melt-in-your-mouth bread recipe out of North Carolina — here's your chance to make it yourself for the holidays.
Brussels Sprouts Gratin Chef Adam Evans Automatic Seafood, Birmingham, Alabama Chef Adam Evans continues to solidify Birmingham as a Southen food destination with his buzzed-about hotspot, Automatic Seafood. This November,
Chef Katie Button of Asheville, NC's Curate shares a favorite Thanksgiving side dish: beet salad with candied orange rind and Marcona almonds.
This delightful sage stuffing recipe comes from Chef Ouita Michel.
Bring some delicious Brussels sprouts to your Thanksgiving table this season with this tasty recipe from The Grocery's Chef Kevin Johnson.
Cheesy Grits Chef Tandy Wilson City House, Nashville, Tennessee "This is a dish that reminds me of my childhood growing up. We always had cheesy grits and I always loved
Asheville, North Carolina, is wrapped in picturesque mountain landscapes, steeped in Appalachian culture and fueled by creative artisans, music makers, culinary geniuses and some really, really good beer brewers. Come see why Asheville should be at the top of your weekend getaway bucket list.
Siloam Health serves people from more than 80 countries who speak more than 70 languages, with a team of more than 400 physicians and volunteers. We explore the inner workings and speak to the leader of one of Nashville's most impactful organizations.
These three Nashville women are breaking through the male-dominated façade of the construction world — with a hammer and their own two hands. Get to know this trio of FACES in construction, carpentry and contracting.
Cheese as a career. It exists, and it's fascinating. We unpack the unique culinary profession of the cheesemonger, speak to a few leading mongers in the South and address a common cheese misconception. Say cheese! Image: Caroline Allison
These ultra-luxurious hotel suites throughout the South boast marble staircases, private balconies, celebrity memorabilia and top-notch amenities — all for a splurge-worthy price tag of more than $1,000 a night (and one for $25,000 a night!). Image: The Brown Hotel
What happens when a wedding involves a park ranger, a llama named Chocolate Chip and a very serious weather forecast — all at a picturesque Western North Carolina farm? We'll show you …
The shift toward D.I.Y. and handmade goods — as well as a growing thirst for experiences — have infused fresh air into many traditional Southern art forms of the past. Here are five that are making a comeback both as hobbies and professions. Image: Emily Dorio
Nashville Ballet's beloved annual show returns this December, and there's still time for children — dancers or not — to join the Youth Cast. Here's how your child can land a role in Nashville's Nutcracker.
From the sculptures in public atriums to the prints in hospital rooms, Jenny Lewis is in charge of all the art you see at Vanderbilt Medical Center. Meet the wonder woman who's bringing peace, color and fun to the healthcare sphere, one piece of art at a time.
A secret basement cocktail bar, stunning Art Deco rooms, and a curated luxury boutique are just a few of the reasons why Noelle Hotel has become a destination for adventurous Nashvillians and weekend sojourners alike. Come check out why.
You've tagged the carpet on Instagram, you've walked over it a million times, but did you know you can actually WEAR it? Show your BNA Carpet support with these carpet-patterned apparel and accessories!
Experiencing the Queen City's rich culture, creative makers and outdoor spaces doesn't have to come with a hefty price tag. Here are 10 of our top FREE things to do in Charlotte, NC!
This music-loving, adventure-seeking, fun-loving couple's wedding was the perfect representation of joy and excitement. Take a look at the to-die-for, color-drenched aesthetic of their big day!
This artistic, idyllic and laid-back Williamson County town might be Nashville's best not-so-hidden gem and your new favorite day trip. Read why a trip to Leiper's Fork should be on your summer bucket list.
A wedding filled was so many thoughtful and quirky touches must have an equally magical story behind it. Take a few sips of this adventure-seeking, food-obsessed, craft beer-loving couple's gorgeous Linville, North Carolina, wedding.
Nashville, we've rounded up some of our favorite FREE things to do year-round. From music to food to crafts and lots in between, there's plenty of affordable fun at the ready.
From sweets and jewelry to home finds and luxe Valentine ideas, here are some of our favorite FINDS from around the South!
Morocco should be on everyone's travel bucket list. When you're ready to journey to this amazing North African destination, here's what to keep in mind.
Whether you have a child heading off to college or you're the one pursuing higher education this fall, this is a must-read of thoughtful suggestions and useful pointers to ensure that these are the amazing and wonderful years they should be.