The initial wave of speakeasies nearly a century ago resulted from the 18th amendment, which made alcohol illegal in the U.S. Luckily, the amendment was repealed in 1933, and we've been allowed to imbibe freely for the last 90 years. But the speakeasy concept has enjoyed a recent resurgence, with cozy, dimly lit cocktail bars popping up in quiet corners of major cities across the South. There are quite a few spots around Lousiville that boast the charming underground ambiance of days past — add these to your must-try list!
Pin + Proof
400 S. Second St., Louisville, KY 40202 • (502) 313-6664
Hours: Tuesday through Thursday, 4 p.m. to midnight; Friday and Saturday, 4 p.m. to 2 a.m.; closed Sunday and Monday
To the left of the reception desk of the Omni Louisville Hotel, down a small hall with a light-up sign with the word "shhh" illuminated in cursive, sits Pin + Proof, a speakeasy-style bar, restaurant, and bowling alley. Menus are printed on the back of liquor bottles, and every cocktail offered is an ode to Derby City. Try the Hard to be Humble, named after Muhammad Ali's famous quote, "It's hard to be humble when you're as great as I am." The Castle and Key gin blend, green chartreuse, Luxardo liquor, fresh lemon, lavender syrup, and egg whites also features an absinthe rinse. Reservations are highly recommended, especially if you want to knock down a few pins while you drink.
Hell or High Water
112 W. Washington St., Louisville, KY 40202 • (502) 587-3057
Hours: Tuesday, 5 p.m. to 11 p.m.; Wednesday, 5 p.m. to midnight; Thursday through Saturday, 5 p.m. to 1 a.m.; closed Sunday and Monday
Reservations are required for what is arguably Louisville's most legit speakeasy. Located under Whiskey Row and completely unmarked, the space features private rooms, plush velvet seating, and dark, moody decor. Keep in mind that this is a place for drinking only — Hell or High Water does not have a food menu, so it serves best as a pre- or post-dinner stop. For cocktails that aren't offered every day, pop by on a Tuesday to try something off the secret speakeasy menu. Everything is $12 or less; industry members get 15% off regular menu items.
Gertie's Whiskey Bar
821 E. Market St., Ste. 101, Louisville, KY 40206 • (502) 785-6800
Hours: Tuesday through Thursday, 4 p.m. to midnight; Friday and Saturday, 4 p.m. to 1 a.m.; Sunday, 2 p.m. to 10 p.m.; Monday, 4 p.m. to 10 p.m.
Speakeasy hours: Fridays and Saturdays, 5 p.m. to midnight; closed to the public Sunday through Thursday (but open for private events)
A Nashville original, Gertie's Whiskey Bar is named for Gertrude Cleo Lythgoe, known as "Queen of the Bootleggers." The bar's second location opened in Louisville's NuLu neighborhood in 2021 and is tucked behind Torino's Sandwich Bar. The speakeasy section of Gertie's is only open to the public two nights a week — but you can host a private event in the dark downstairs area Sunday through Thursday. If you make it there, check out the more than 100 bottles of whiskey available — and unique speakeasy cocktails — in a space outfitted with exposed brick walls and velvet, leather, and rustic wood decor.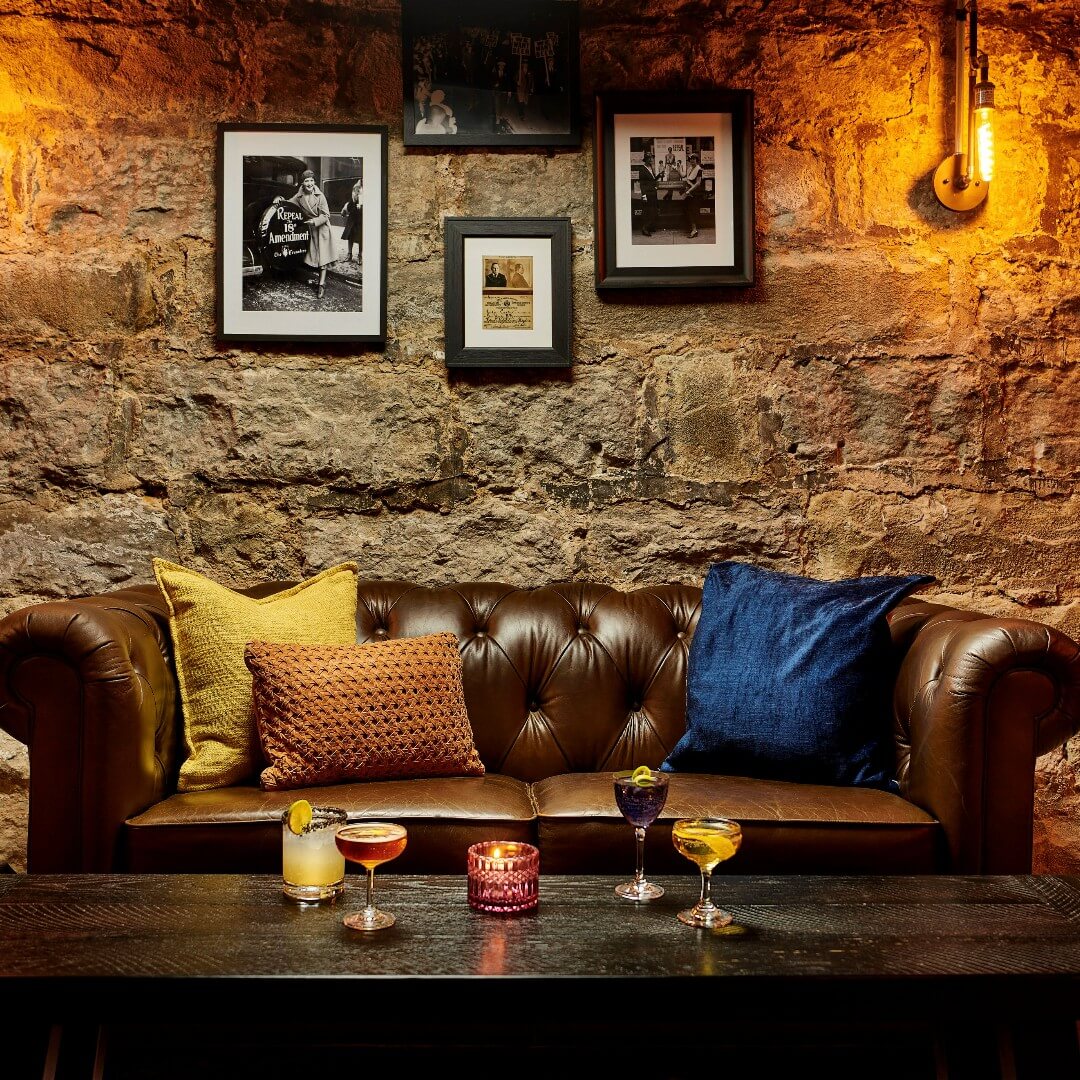 Black Rabbit
120 Sears Ave., Louisville, KY 40207 • (502) 897-9721
Hours: Tuesday through Thursday, 4 p.m. to 11 p.m.; Friday and Saturday, 4 p.m. to midnight; closed Sunday
On the opposite side of Equus Jack's Restaurant and Lounge in St. Matthews sits a hidden lounge known as Black Rabbit. Set behind what appears to be a bookshelf, the speakeasy serves craft cocktails and a comprehensive wine selection — as well as dinner and desserts — five nights a week. This venue has the most extensive food menu of all the other speakeasies on our list, boasting everything from calamari and trout flatbread to pan-seared salmon and pasta Bolognese. And don't sleep on the dessert offerings. With carrot cake, pumpkin crème brulée, and pb&j mousse, there's something for everyone.
Jockey Silks Bourbon Bar
West Tower, 140 N Fourth St 2nd Floor, Louisville, KY 40202 • (502) 589-5200
Hours: Daily, 11 a.m. to 11 p.m.
Though it's not a speakeasy in the traditional sense, Jockey Silks Bourbon Bar is a place you're not going to accidentally come across — you have to be looking for it. Tucked away on the second floor of the west wing in The Galt House Hotel, this Derby-themed bar is one of the original locations on the Urban Bourbon Trail and boasts more than 175 bourbons. Having served Louisvillians since 1972, it's the oldest speakeasy on our list, though it underwent a complete renovation a few years ago. The revamped space boasts sleek new velvet and leather seating, with several conversation-area setups with small coffee and cocktail tables. Try one of several cocktails with names that are on-theme, like the American Pharaoh, made with Old Forester Rye, Carpano Antica Sweet Vermouth, Luxardo Maraschino Liquor, orange juice, and bitters; the Jockey Old Fashioned, with Buffalo Trace Bourbon, Demerara Syrup, and bitters; or the Oaks Philly Mule, which is a blend of Tito's Handmade Vodka, cranberry, lemon juice, cassis, and ginger beer.
Cheers, Louisville!
**********
Want to know about everything going on around town, plus where to shop and eat? Subscribe to StyleBlueprint!