Today's article comes to us from Megan LaRussa, a Southern fashion stylist specializing in helping women look and feel their best through their wardrobes.
**********
There's something about a silk scarf that lends a certain je ne sais quoi feeling. When wearing a silk scarf around my neck, my mind is transported to Paris, where I walk alongside chic French women also donning scarves.
A great scarf has the power to elevate an outfit — it ensures you feel polished and pulled together. I call this "the magic of the third piece," and my style coaching clients love this outfit-completing technique. A scarf, similar to a blazer or cardigan, can help pull together an ensemble, whether it's for a casual gathering, business event, or evening out.
To help my clients better use the silk scarves they already own, I love teaching them new ways to tie them. Here are 10 inspiring images and tips to help you get out of your "scarf rut" and into that je ne sais quoi that makes you feel oh-so-chic when you leave the house.
10 Ways to Wear Silk Scarves
Like a Tie
Take a cue from the men in your life and tie your long rectangular silk scarf like a tie. Keep the neck a little loose for a more effortless vibe. This scarf technique works best with a relaxed button-down to fill the open neckline.
High Neck
Ultra elegant and sophisticated, a large rectangular or square silk scarf can be the perfect accessory when your outfit needs that finishing touch. You can knot it at the neck or wrap it around your neck and let the ends hang beautifully. For a square scarf, fold it into a rectangle shape and then tie it accordingly. Keep your shirt or dress clean and simple to allow the scarf to do the talking.
Over a Turtleneck
In the winter months, it can feel cozy and cool to add a silk scarf around your turtleneck neckline. You can tie it tightly around the neck or leave it looser for a necklace-like effect. Avoid cowlnecks and stick to more fitted turtlenecks to prevent feeling overpowered by all the material.
Tied on a Handbag
If you have a vintage scarf (perhaps passed down from your mother or grandmother) or a silk scarf you no longer wear, you can easily tie this scarf onto your favorite daytime handbag for a pop of color and print. It's such a fun and unexpected style detail that can bring a smile to your day!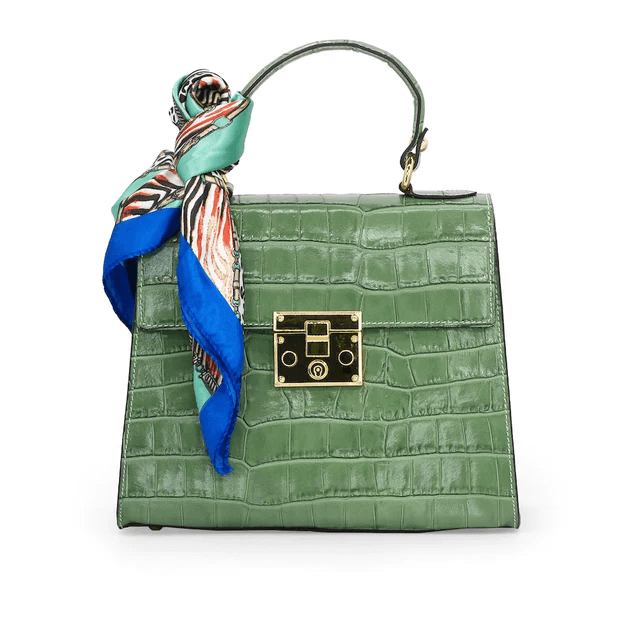 Hair Accessory
A smaller silk scarf can be tied onto a ponytail, woven into a braid, or twisted around a bun for a bit of flair. Think of it as the modern-day scrunchie!
Square Knot
My personal favorite scarf-tying technique is the simple square knot. I have a lovely collection of my great-grandmother's square silk scarves that are great to fold and tie in a square knot to the side of my neck. They are like a necklace and add some color around my face.
A Bandana Necklace
Another favorite (and quick) way to tie a scarf is bandana-style. It would be best if you had a square-shaped scarf for this technique, and you simply fold it in half and tie it behind your neck. Pull it away from your neck slightly for a more relaxed look. It's fabulous if you wear a crew neck, as it creates a flattering v-neck shape. It's also great if you wear something with an open neck, as it fills the space.
Belt It
If you have a few extra-long rectangular scarves in your closet, why not try them out in your belt loops? This scarf technique looks freshest when paired with modern-day denim and a casual tee or button-down.
Large Square
This classic scarf style can be worn casually with a tee or lend itself to "business casual" with a silk blouse and blazer. You need a larger silk square scarf for this technique. Fold it in half, and after looping it around the back of your neck, tie it in a pretty knot in the front. Be sure to slightly pull the knot away from your neck for a more effortless look.
French Girl Style
The cousin to the square knot, this scarf technique is très effortless (and easy to tie!). It works best with smaller scarves, whether square or rectangular. Fold or scrunch it up and tie it in the front or on the side.
Inspired yet? Your 'style homework' is to assess your current silk scarf collection and remove any scarves that no longer resonate with your personal style, or simply aren't functional. Then, select one or two of the scarf-tying techniques I've mentioned and try them out in the next few weeks. Most importantly, have fun with it!
Looking for more fashion tips and tricks? Check out Megan's website, where you can sign up for her free weekly newsletter full of fabulous items to shop, how-to videos, and more.
**********
For style inspiration, travel tips, delicious recipes, and more — delivered to your inbox daily — subscribe to StyleBlueprint!