As home to nearly 100 distilleries, Kentucky boasts a wealth of fun destinations for whiskey lovers. But for those who want to take their tasting experiences one step further, Barrels & Billets — located right beside the Louisville Slugger Museum and Factory — is the place to be.
For one thing, the distillery boasts unique bourbons only available at its sole location on West Main Street in downtown Louisville. "We are always distilling," says Andrew Soliday, marketing director of Hillerich & Bradsby Company, owner of both Barrels & Billets and the adjacent Louisville Slugger Museum. "Our bourbons are always available for purchase here — we do not distribute."
But what makes this 2,000-square-foot spot extraordinary is that it's the only place in the city that gives guests the option to not only taste bourbon but create their very own bourbon recipes, too. "We're not another distillery tour," Andrew says. "We're Louisville's only custom bourbon experience … It's very interactive and immersive."
Folks stop into Barrels & Billets all the time to snag a bottle of their award-winning Jay Frederich label premium bourbon — selected as one of the best spirits in the world in the Ultimate Spirits Challenge — but they're quickly becoming known for their in-depth bourbon experiences, too.
Check out these four fun ways to immerse yourself!
Custom Bourbon Experience
The first is the custom bourbon experience, held in one of two experience rooms. A glass divider separates each space, and multiple darkwood tables are set up to accommodate several small groups.
"These are the spaces where people kind of have that communal feeling," Andrew says. "There's always a really great sense of kinship that's built with everyone in the room that's participating."
Each participant blends six award-winning, wood-finished bourbons to create a flavor that suits their personal palate. These include a European oak, cherry wood, maple wood, smoked oak, 200-year oak, and an American oak.
"The six wood-finished bourbons are very different flavors," Andrew says, "but when you blend them all together, it's like … an orchestra. Each bourbon is just one note or one instrument, but when you put different ones together, you can build more complexity [and] more interesting flavors."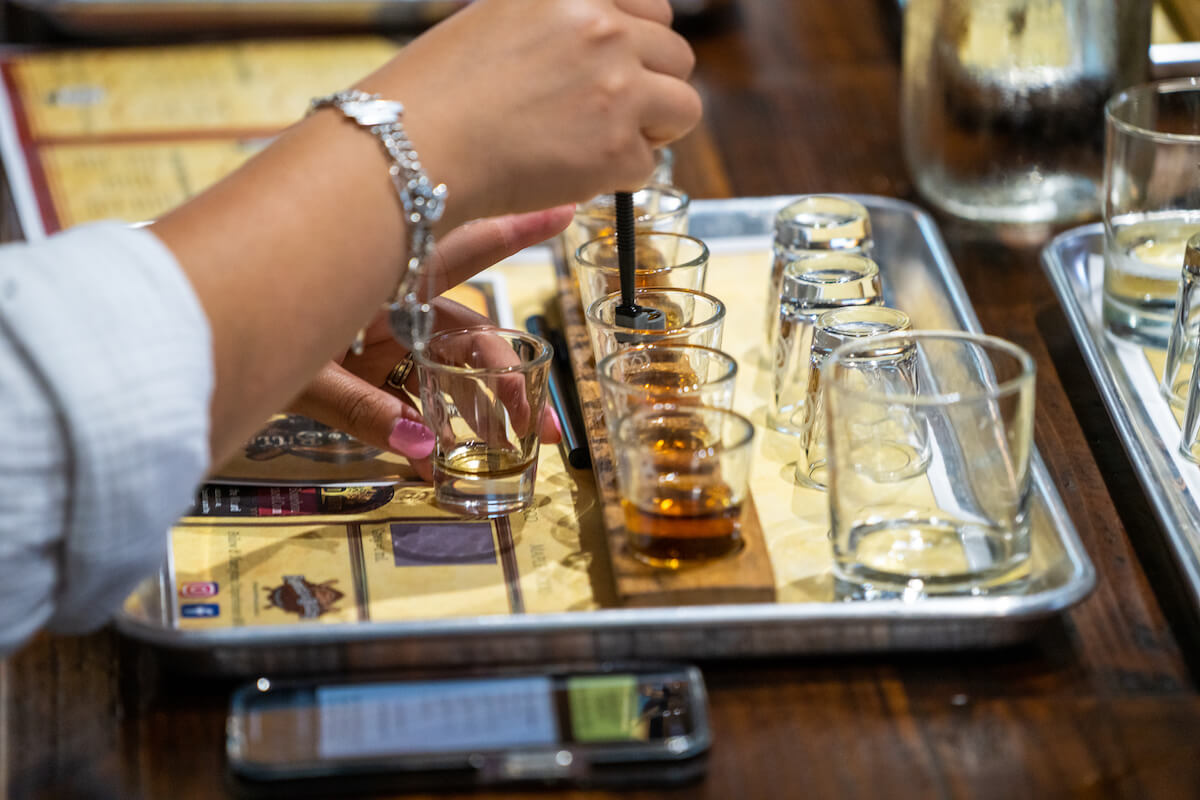 Whether someone's preferences are sweeter, smokier, or more complex, the experience will help them craft a taste they're sure to love. A Barrels & Billets team member is there to guide and assist, as well as answer questions along the way, all while sharing the history of bourbon and how it relates to both baseball and H&B.
Guests also have the option of having their custom creations bottled and labeled — with a name of their choice — to take home.
The Custom Bourbon Experience is 45 minutes long, and tickets are $35. It's best to make an online reservation in advance, as each time slot accommodates just 16 guests and is typically booked up.
Flight School
Those short on time can attend 'flight school,' a 20-minute experience costing $25. Held at the Barrels & Billets bar every 30 minutes, this option offers samples of three bourbons that have been barreled on-site, as well as three 1.5-ounce cocktails that are crafted with those featured bourbons.
"We also talk about the cocktails and how they're made," Andrew says, adding that the bourbons are all part of Barrels & Billets' Home Plate Series and are also available for purchase by the bottle.
Whiskey Wizard
The last option is $15 and is essentially as quick as you can answer 13 questions. Guests scan a QR code, then answer queries like, "Do you prefer a Manhattan or a margarita?" or "How smoky do you like your bourbon?" Once every question is answered, the system generates a recipe specific to your tastes, and a machine pushes out a 1.5-ounce pour of your customized bourbon.
Custom Bourbon Home Party Kit
To recreate a Barrels & Billets experience at home — or give the gift of the experience to a loved one — there are also home party kits. Available only in-store, each kit includes all the necessary supplies as well as an interactive video for eight people to learn about whiskey history and take a journey through creating their own bourbon recipe from the comfort of home.
The team at Barrels & Billets loves welcoming locals and visitors alike, ready to answer questions and make connections. "We are just so passionate about building meaningful relationships with people," he exclaims. "We want to build that lasting memory [with] the people working here as well as the people you have an experience with."
**********
Stay in the know on the best of life in the South. Subscribe to StyleBlueprint!