Eli Kirshtein always calls me "dude." I am not, in fact, a dude, but the overriding familiarity of the term suits his disposition, so I like it. I also like The Luminary. Even though it's new to me, I guess it rings a subconscious bell, because I feel like I've been going to this place forever. It's just, like, super-easy to hang there, dude.
Billed as a French-American brasserie, the restaurant, perched ever-so-pretty right at the entrance of Inman Park's buzzy new Krog Street Market, fits with an array of dining sensibilities — fancy, extra-fancy, not so fancy at all, just here for the beer (the beer selection, by the way, will please even the biggest brew nerd!). You'll find your standard brasserie fare here, too. There's a raw bar and locally informed riffs on traditional fare like mussels, steak tartare and pommes frites.
Despite the eclectic neighborhood galvanizing its aesthetic, the tapestry of the room weaves together well. An old-style bar, complete with brass rails and Thonet seating, opens up into a clean-cut, modern dining room, eminently lit by an eponymous white neon sign. Plainly said, it's kind of a sexy joint.
The maestro here is Kirshtein, an Atlanta native who hails from a culinary lineage that includes a stint on Bravo's "Top Chef."
"When we started thinking about The Luminary, we thought about my roots," says Kirshtein. "Most cooks go through some semblance of proper French training, and for some reason, as soon as they're out of school, want to stop cooking that food. We thought about what the city and the neighborhood needed, and a brasserie felt right. Sometimes people just want a straightforward meal, like a gussied up ham and cheese."
Named for the city's first published newspaper, The Luminary is a meditation on its Atlanta roots. The Krog Street location was chosen with great care. True to his neighborhood manifesto, Kirshtein lives a 10-minute walk from the restaurant. He notes that he "wanted to be in a space that was a part of the city and had semblance of a soul." It is housed in a renovated Prohibition-era Stove Works warehouse, with a lot of its structural integrity preserved. "I've got a deep underlying passion for the city and its history," he says. "It was important to make that a part of what we're doing."
The food, like the space, is inviting, but don't call it comfort food. "Our food is definitely approachable, but there is a level of sophistication and interest involved. Both our menu and bar program have layers to them. Even something simple is done in a comprehensive way. We wanted to meet right in the middle of high and low," he says.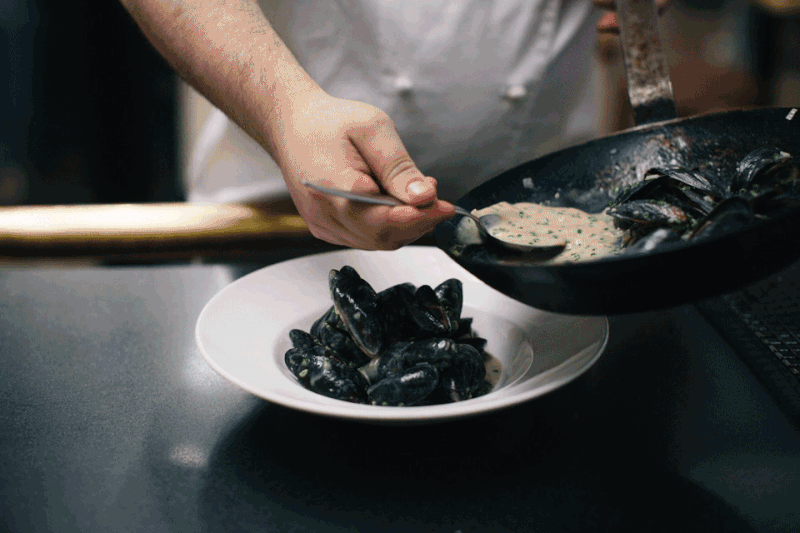 It's a happy middle ground. As a late-20s female with a taste for alcohol and a Panhandle-bred gullet, I generally find myself perched right inside their door, slurping down oysters — sometimes with fries (sorry, pommes frites), always with a drink. I like that I can sit at the bar solo here, and that I can dress up a little to do it, should that suit me. Tough-to-please food and bev-loving friends have kept me company, too, one of them proclaiming, quite decisively, that "these were the best mussels in Atlanta." I've been here on a nice date, where I've watched the chef gratuitously shave truffles over gnocchi. I've been here on a not-so-nice date, when I was incredibly grateful for the friendly bartenders and their boozy pours. But I've also been here with a gaggle of my favorite girlfriends, watching them cluck away, happily picking at salads and drinking vodka sodas. Again, I tell you — fancy, extra-fancy, not so fancy at all, just here for the beer … all kinds welcome here.
In fact, lack of pretense seems to be the decisive theme of Krog Street Market as a whole. While everything is beautifully executed and super tasty, you don't catch any whiff of ego floating over from the chef or bar talent colonizing its walls. I get the feeling The Luminary, one of the market's first to open, helped set that precedent.
The Luminary is located at 99 Krog St., Ste. Y in Atlanta.  Hours are Tuesday through Thursday, 6 to 10 p.m.; Friday and Saturday, 6 – 11 p.m.; Sunday, 12 – 3 p.m. Call (404) 600-6199 to learn more. 
Photos: Caroline Fontenot