Atlanta's a lot of things — among them, a drinking town. The city boasts a veritable pantheon of bar talent at its seemingly endless roster of celebrated restaurants. In the spirit of Valentine's Day (or simply date night), we asked a few of our favorite barkeeps to shake, stir and muddle us a few of their most romantic cocktails.
St. Cecilia
The stars twinkling through the floor-to-ceiling windows dress it up in the evening, but the real sparkle of St. Cecilia is happening behind the bar. While the moonlight pours in, the clientele and cocktails follow suit. "I think first you have to acknowledge the space," says General Manager Matt Crawford. "You're greeted by the Chihuly artwork in the atrium of the Pinnacle building, followed quickly by a spin through the revolving door into the restaurant. Then there's the flow of the open kitchen bursting out into the center of the space." For a romantic evening, there is no better (or more coveted) seat in Buckhead.
Barkeep Ronnie LeClair II kept the romance of the restaurant in mind when shaking the dry, slightly sweet grapefruit and gin confection he's dubbed a "Sweet Melissa." "It fits our concept and pairs with our menu well, sure" he says. "But more importantly, it's a his-and-hers cocktail."
Sweet Melissa
by Ronnie LeClair II, St. Cecilia
1 oz. Barr Hill gin
.5 oz. Aperol
.25 oz. Esprit de June
.75 oz. Grapefruit Juice
2 dashes of Regan's Orange Bitters
Prosecco
Long orange garnish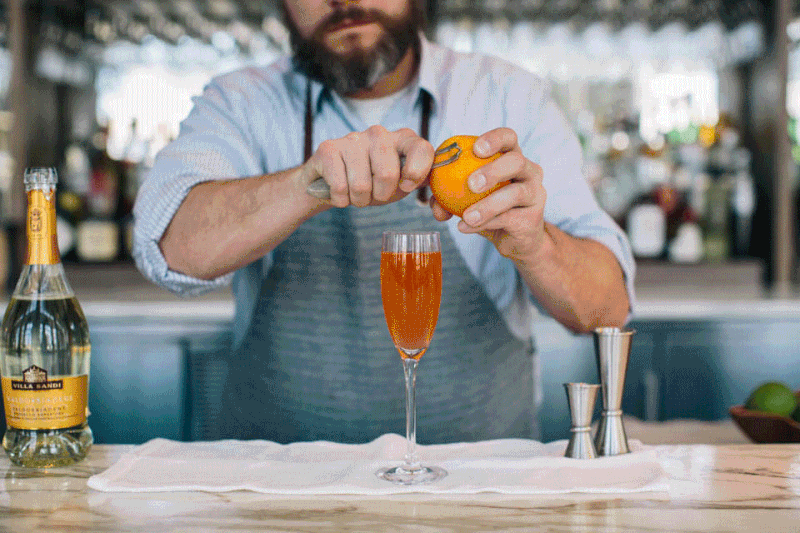 Combine first five ingredients (minus the Prosecco) in a shaker and add ice. Give a hard shake (8-10 shakes). Double strain the cocktail into a wine flute, and top off with Prosecco or your favorite bubbly. Using a channel knife, pull a long orange twist and wrap it inside the flute leaving a little bit hanging off the side of the glass. Drink!
St. Cecelia, 3455 Peachtree Road • (404) 554-9995 • www.stceceliaatl.com
JCT Kitchen
JCT by now is an Atlanta establishment. It can always be relied upon for a quintessentially "Atlanta" meal. But upstairs at the restaurant's bustling bar, the vibe is decidedly more casual, which makes it an ideal destination for newly minted couples. For Valentine's Day, bartender Eduardo Guzman invented something as sweet as his female clientele — a light, nearly dessert-worthy pomegranate cocktail topped with a frothy, pungent foam.
To recreate the foam, Eduardo advises at-home mixologists to whip 1 egg yolk, 5 ounces of POM juice, 2 ounces of simple syrup, 1 oz lemon and 1 oz pomegranate liquor with a hand immersion blender. Too much hassle? "You can sub a sparkling wine for the foam," he advises, "but stay away from dry-style sparkling."
Ode to My Love
by Eduardo Guzman, JCT Kitchen
1 ½ oz. Leopold's Cognac
½ oz. Jack Rudy Grenadine
½ oz. Lemon
Top with Pomegranate foam, and garnish with pomegranate seeds.
JCT Kitchen & Bar, 1198 Howell Mill Road, #18 • (404) 355-2252 • jctkitchen.com
LUSCA
Yeah, February 14 is Valentine's Day, but February 13 celebrates a lesser lady — the mistress. "The inspiration for this drink actually came from radio station 107.9's 'Shout Out to Your Side Piece,'" muses LUSCAs Beverage Director Stuart White. Shadowed by the looming, vivid octopus splashed behind the bar, he smiles.
"We promise if you come in here on Friday with your side girl, then come back on Saturday with your wife, we will pretend like we have never seen you. That being said, my wife threatened that I needed to make the 'Main Squeeze' taste better than the 'Side Piece.'"
Side Piece
by Stuart White, LUSCA
1.5 oz cognac
1 oz hibiscus-infused Combier
1/2 oz lemon juice
1/2 oz thyme simple syrup
Shake & double stain in a coup; top with champagne.
Main Squeeze
by Stuart White, LUSCA
In a Collins glass muddle 3 small wedges of blood orange then flame a sprig of Rosemary
Add 2 oz gin
1/2 oz campari
Add ice
Top with fever tree bitter lemon soda
LUSCA, 1829 Peachtree Road NE • (678) 705-1486 • luscaatl.com
Many thanks to Caroline Fontenot for the fabulous (and thirst-inducing) photography in today's article. See more of her work and get in touch at carolinefontenot.com.